Chicken Pot Pie - No Cholesterol & Extremely Low in Fat &amp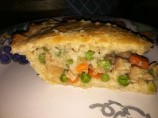 Photo by Chef C.S.
Prep Time: 30 mins
Total Time: 1 hr
Serves: 8, Yield: 1 pie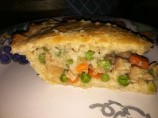 Photo by Chef C.S.
About This Recipe
"Using TVP chunks you can find at any health food store, skim or non-dairy milk, no crisco / shortening, you can make a really healthy chicken pot pie. And it's definitely a quick meal from start to finish, including making the pie crusts. Hope you enjoy"
Ingredients
1 cup carrot, chopped however small you like them

1 cup frozen peas

1 1/4 cups textured vegetable protein, aka TVP- unflavored chunks

1 1/4 cups chicken broth ( or vegetable broth to rehydrate the TVP)

1/2 tablespoon safflower oil ( or other vegetable oil- safflower & sunflower oils are best for cholesterol lowering, supposedly)

1/2 cup onion, chopped

1/2 cup celery, thinly sliced

1/3 cup all-purpose flour

1/2 teaspoon salt

1/4 teaspoon black pepper

1/4 teaspoon celery seed

1 3/4 cups chicken broth ( or vegetable broth)

2/3 cup milk ( of your choice)

2 teaspoons Egg Beaters egg substitute ( used on top of each crust)

2 -9 inches pie crusts, double World's Easiest Pie Crust - Vegan but with only 1/2 of the sugar. Do not forget the OJ
Directions
Preheat oven to 425 degrees F (220 degrees C.).

In a saucepan, combine 1-1/4 C broth, carrots & peas. Bring to boil & simmer for 5 minutes. Remove from heat & drain the broth onto the TVP. Push the TVP down to be sure to hydrate all. Allow to hydrate for 15 minutes.

In a skillet or saucepan over medium heat, cook onions & celery in oil until soft and translucent. Stir in flour, salt, pepper, and celery seed. Slowly stir in chicken broth and milk. Simmer over medium-low heat, stirring regularly until thick. Remove from heat and set aside.

While your onions are cooking, make a double recipe of pie crust #171844, but reduce sugar to 1/2 and substitute 1/2 of the oil with unsweetened applesauce. Do NOT omit the OJ. Use lightly floured plastic wrap on your counter and roll out 1/2 the pie crust. Invert it into your pie pan, being sure you mend holes by using your fingers.

Brush 1 teaspoon eggbeater (opt.) onto bottom crust.

Combine TVP, peas & carrots. Pour into bottom pie crust. Pour hot liquid mixture over.

Roll out the 2nd pie crust, again on floured plastic wrap. Flip it onto your pie, seal edges & cut away excess dough.

Brush 1 teaspoon eggbeaters (opt.) on top crust. Make several small slits in the crust to allow for steam to escape.

Bake in the preheated oven for 30 to 35 minutes, or until pastry is golden brown and filling is bubbly. Cool for 10 minutes before serving.