Easy Chicken Vegetable Soup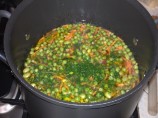 Photo by Melinda #2
Prep Time: 15 mins
Total Time: 1 hr
Servings: 8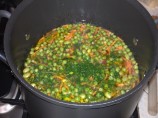 Photo by Melinda #2
About This Recipe
"Easy, quick, delicious, nutritious and low calorie. A yummy meal any time, but especially great on a cold day."
Ingredients
1 tablespoon extra virgin olive oil

2 large carrots, diced

2 stalks celery, diced

1 large onion, diced

1 elephant garlic clove, quartered and thinly sliced

2 (32 ounce) boxes chicken stock ( Kirkland)

1 (14 1/2 ounce) cans fire-roasted tomatoes

1 sprig fresh rosemary

2 teaspoons dried basil

1/4 teaspoon ground red pepper

2 (12 1/2 ounce) cans chicken breasts ( Kirkland)

4 cups mixed vegetables, Frozen Organic ( Kirkland, 0r whatever frozen vegetables you like)

1 cup fresh broccoli florets

salt and pepper

2 tablespoons extra virgin olive oil

3 tablespoons fresh parsley, finely chopped
Directions
Heat 1 Tbsp olive oil, med-high heat, in large (8qt) stock pan.

Saute carrots, celery, and onion for a couple of minutes. Add garlic, a couple pinches of salt, and continue to saute until you smell the garlic (about a minute or two).

Add Chicken Stock, Fire Roasted Tomatoes, Rosemary, Basil and about 1/4 tsp ground red pepper (more or less for your taste), 1/4 tsp salt and pepper. Bring to a boil, reduce heat, cover and simmer about 30 minutes. Remove rosemary sprig.

Add Chicken, frozen veggies and broccoli. Heat through. Salt and pepper if needed for taste. More red pepper can be added if you want a little more heat, and if you want a little more garlic flavor you can add some garlic powder.

Drizzle with remaining 2 tbsp olive oil and sprinkle with the fresh parsley and serve.