Simply Delicious Shrimp and Corn Chowder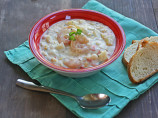 Photo by Kristy@The Wicked Noodle
Prep Time: 20 mins
Total Time: 1 hr
Servings: 10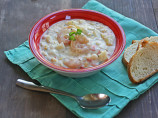 Photo by Kristy@The Wicked Noodle
About This Recipe
"Ready, Set, Cook! Special Edition Contest Entry -- Made with Simply Potatoes Diced Potatoes with Onions, this is a creamy, delicious shrimp and corn chowder."
Ingredients
1 1/2 lbs fresh shrimp, unpeeled, medium size ( I buy mine at the local fish market already peeled and deveined...saves time!)

olive oil flavored cooking spray

1 teaspoon olive oil

1/4 cup onion, chopped

1 cup celery, chopped

1 cup red sweet bell pepper, diced

3 garlic cloves, minced

1/2 cup all-purpose flour

21 ounces chicken broth

1 1/2 cups water

1 cup carrot, diced

2 bay leaves

1/2 teaspoon dried thyme

1/2 teaspoon white pepper

1/8 teaspoon ground nutmeg

3 cups Simply Potatoes Diced Potatoes with Onion

2 (12 ounce) cans evaporated milk

2 (8 3/4 ounce) cans salt-free cream-style corn

1 teaspoon hot sauce

1 lb fresh crabmeat, drained and picked of shells

1 tablespoon cilantro, chopped

salt ( depends on your chicken broth)
Directions
Peel and devein shrimp. Rinse under cold water and set aside. Keep cold.

Coat a dutch oven with cooking spray; add the oil, and place over medium high heat until hot. Add the onion, celery, red pepper, and garlic. Cook until tender.

Add the flour and cook, stirring constantly for one minute. Gradually add in the chicken broth, water, carrots, bay leaves, thyme, nutmeg, and white pepper.

Bring to a boil, and cook for 10 minutes, then add the Simply Potatoes Diced Potatoes with Onions. Cook for 10 minutes more.

Stir in the milk, corn and hot sauce. Return to a boil. Add the shrimp, crabmeat, and cilantro; cook 5 minutes or until the shrimp turn pink, stirring constantly.

Remove and discard the bay leaves and serve.