Spice-Crusted Salmon With Couscous Salmon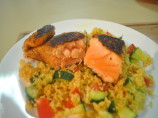 Photo by I'mPat
Prep Time: 15 mins
Total Time: 20 mins
Serves: 2, Yield: 2 main meals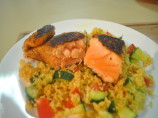 Photo by I'mPat
About This Recipe
"I love salmon and couscous and this recipe from Australian BH&G Diabetic Living looks like a corker. UPDATE 24th February 2012 - made this recipe for the DM and myself but did use basil instead of corainder as we really don't care for it but the basil was a good match with the tomatoe and cucumber, unfortunately no radishes so gave a good grind of fresh black pepper (helped a little). My fillets were just under 200 grams each so allowed an extgra minute, though only 30 seconds would have been perfect still had that pink and was not dry. For the rub mix oh the flavour was sublime but only used about half of it on our 2 fillets so if you are not planning on using the rub mix again would halve for one of use (but could depend on how much mix you like to rub in)."
Ingredients
3 teaspoons salt-free lemon pepper ( Masterfood recommended)

2 teaspoons coriander ( dried leaves)

1 teaspoon paprika ( ground)

2 (150 g) salmon fillets ( boneless skinless)

cooking spray ( olive oil spray stipulated)

Couscous Salad

70 g couscous ( 1/2 cup)

125 ml orange juice ( 1/2 cup freshly squeezed)

1/4 cup coriander leaves ( fresh roughly chopped)

1 lebanese cucumber ( finely chopped)

1 tomatoes ( large finely chopped)

4 radishes ( finely chopped)

1 teaspoon lemon zest ( finely grated)

1 tablespoon lemon juice ( freshly squeezed)

1/2 teaspoon extra virgin olive oil

1/2 teaspoon paprika ( ground)
Directions
Preheat barbecue grill to medium.

Put lemon pepper, dried coriander and paprika in a small bowl and mix and then rub the mix over each side of the salmon fillets and set aside.

COUSCOUS SALAD - Put couscous in a small heatproof bowl and heat the orange juice in a small saucepan over a medium heat until hot and then pour over the couscous and stir to combine and then cover the bowl and set aside for 3 to 4 minutes or until the liquid is absorbed and then using a fork, fluff up the grains.

Add fresh coriander, cucumber, tomato, radish and lemon zest.

Put the lemon juice, oil and paprika in a small bowl and whisk to combine and then add lemon juice mixture to the couscous mixture and toss to combine and then set aside.

Spray salmon fillets on each side cooking spray and put on the barbecue and cook on each side for 2 1/2 minutes for medium, or until cooked to your liking and then transfer to a plate, cover loosely with foil and set aside for 2 minutes to rest.

Put a salmon fillet on each plate to serve, accompanied with the couscous salad.