Soy and Sriracha Glazed Brussels Sprouts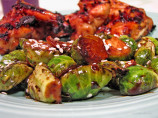 Photo by loof
Prep Time: 10 mins
Total Time: 25 mins
Servings: 3-4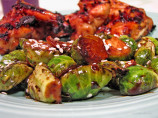 Photo by loof
About This Recipe
"spicy and delicious!"
Ingredients
1 lb Brussels sprout

3 tablespoons olive oil

2 tablespoons lows sodium soy sauce

1 tablespoon sriracha sauce

1 1/2 teaspoons Dijon mustard

1/2 teaspoon ground ginger

1 teaspoon chopped garlic

sesame seeds (optional)
Directions
Trim sprouts and then cut in half lengthwise.

Whisk together olive oil, soy sauce, Sriracha, mustard, ginger and garlic powder until well blended. Place Brussels sprouts in mixture and let sit for 3 to 6 minutes.

Preheat a large stovetop pan over medium high heat. Once heated, place Brussels sprouts and sauce in the pan, flat side down, pouring any sauce over sprouts. Cook for about 7 to 9 minutes or until bottoms are browned. Stir sprouts around, cooking for about 5 more minutes or until they are tender when poked with a fork.

Sprinkle with sesame seeds when serving.