Italian Sausage Market Meatloaf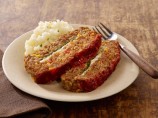 Photo by Johnsonville Sausage
Prep Time: 0 mins
Total Time: 1 hr 30 mins
Servings: 4-6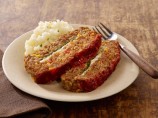 Photo by Johnsonville Sausage
About This Recipe
"Courtesy of Johnsonville Sausage"
Ingredients
1 (19 ounce) packages Johnsonville® Mild Italian Sausages, decased

3/4 lb ground beef or 3/4 lb ground turkey

3/4 cup chili sauce

1/4 cup water

3/4 cup rolled oats

1 large egg, lightly beaten

1 tablespoon chili powder

1 tablespoon Worcestershire sauce

1 small red sweet bell pepper, finely chopped ( ok to use green bell)

1 small onion, finely chopped

1 cup frozen corn kernels ( fresh or defrosted)

1 cup fresh baby spinach leaves

3 slices provolone cheese
Directions
Preheat the oven to 350 degrees F. In a large bowl, combine ½ cup of the chili sauce with the water. Add the oats, egg, chili powder, Worcestershire, and mix well. Add the decased sausage and the ground turkey or beef. Add the bell pepper, onion and corn and mix well. Divide the meat mixture in half. Lay half the meat mixture in a lightly greased 9X5X3" loaf pan.

Create a shallow indent in the meat allowing the edges to rise along the edge of the pan. Layer the provolone and the spinach leaves on top of the meat along the center, staying about ½ inch away from the edges. Cover completely with the 2nd half of the meat mixture forming a domed top and sealing the edges.

Bake uncovered for 50 minutes. Spread the remaining ¼ cup chili sauce over the top of the loaf and bake until a meat thermometer inserted in the center of the loaf registers 165 degrees F. About 15-20 minutes longer. Allow the loaf to stand for 5-10 minutes before slicing.