Adapted Columbia Restaurant 1905 Salad Recipe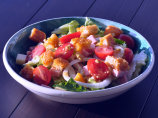 Photo by KateL
Prep Time: 15 mins
Total Time: 22 mins
Servings: 2-4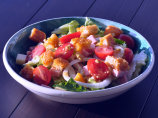 Photo by KateL
About This Recipe
"I found this recipe on MyGourmetConnection.com and here is what was stated about this recipe: "The Columbia Restaurant is an authentic Spanish/Cuban restaurant with seven locations in the state of Florida, including one in the Orlando area near Walt Disney World. The original opened in the Ybor City district of Tampa in 1905. Their signature salad, The 1905, is legendary and the proprietors are kind enough to share the recipe on their website. We've adapted it a little to suit our taste and served it along with crunchy Smoked Paprika-Manchego Croutons. The croutons themselves, sound awesome but knowing how good the salad is at the restaurant and adding them to it has to be over the top. This serves 2 as a dinner salad and 4 for a first course dish."
Ingredients
For the salad

6 cups romaine lettuce (or a combination) or 6 cups iceberg lettuce ( or a combination)

2 ripe tomatoes, cored and cut into eighths

1/4 large sweet onion, thinly sliced

1/2 cup swiss cheese, cut into 1/4-inch cubes

3/4 cup ham, cut into 1/4-inch cubes

1/4 cup pitted green olives, chopped

For the dressing

2 -3 garlic cloves, very finely chopped

1/2 teaspoon oregano

1 teaspoon Worcestershire sauce

1 1/2 tablespoons white wine vinegar

1 tablespoon lemon juice

1/3 cup extra-virgin olive oil

salt and pepper

2 tablespoons freshly grated parmesan cheese

For the croutons

1/4 French baguette, cut into eight 1/2-inch thick slices

2 tablespoons unsalted butter, softened

1/2 tablespoon extra-virgin olive oil

1/2 garlic clove, very finely chopped

1/4-1/2 teaspoon authentic spanish smoked paprika

1 pinch sea salt

2 tablespoons grated manchego cheese
Directions
Preparation:.

Preheat the oven to 325°F and line a baking sheet with parchment. Combine the butter, olive oil, garlic, paprika and sea salt in a small bowl. Spread on the rounds of bread and top each with a portion of the grated Manchego. Bake until toasty and crisp, 5 to 7 minutes.

Toss the lettuce, tomatoes, onion, Swiss cheese, ham and olives in a large salad bowl.

In a small bowl, combine the garlic, oregano, Worcestershire, vinegar and lemon juice. Gradually whisk in the olive oil to form an emulsion. Add the dressing to salad and toss well. Season with salt and pepper to taste, sprinkle with the grated Parmesan and serve with Smoked Paprika-Manchego Croutons.