Best Ever Italian Meatballs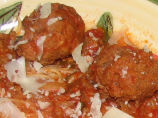 Photo by Irishcolleen
Prep Time: 25 mins
Total Time: 1 hr 55 mins
Yield: 16 Meatballs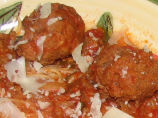 Photo by Irishcolleen
About This Recipe
"This is a recipe I was given from a lady from Italy. She told me that the secret of mouth watering meatballs is not to cook them before adding them to the sauce, as cooking them in the sauce will not only add more flavor to the sauce, but also to the meatballs. What I do is make these a day ahead of time, with my sauce. Then, I refrigerate it over-night, which makes any fat rise to the top and harden, where it is easily removed. This process also allows all of the flavors to "marry" together, making it especially delicious!"
Ingredients
1 lb lean ground beef

1/2 lb ground pork

2 large eggs

1 cup onion, finely chopped

4 garlic cloves, minced

1/2 cup bell pepper, finely chopped

3/4 cup fresh parmesan cheese, grated

1/3 cup Italian breadcrumbs

1 1/2 teaspoons salt

1 teaspoon cayenne pepper

1/4 cup milk

1 tablespoon Worcestershire sauce

1 1/2 teaspoons fresh oregano, chopped

1 teaspoon fresh basil, chopped

1/4 cup fresh parsley, chopped

2 teaspoons anise seeds (optional)
Directions
Mix all ingredients together in a large bowl.

Shape into small meatballs.

Drop the meatballs into simmering sauce. It is important not to stir the sauce for at least 25 minutes. This will allow the meatballs to firm up enough as not to break up in the sauce. Make sure your burner is low enough so that your sauce does not scorch during this process.

Continue simmering until sauce reaches desired consistency and meatballs are cooked through.