Mark Bittman's Roast Chicken Parts With Butter or Olive Oil (Plu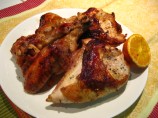 Photo by juliadjulie
Prep Time: 5 mins
Total Time: 45 mins
Servings: 4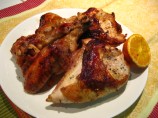 Photo by juliadjulie
About This Recipe
"This was given on the web as the simplest chicken recipe there is and perhaps the easiest as well. As if that isn't enough, you can change the flavoring every time you make it so you'll never get tired of it, either. For example, you may substitute a combination of herbs for the single herb in the ingredients. Also check the variations for other flavorings. In the comments following this recipe some responders criticized the name of this recipe as being gross, citing the "chicken parts." If you come up with a better name, I hope you'll share it with the rest of us!"
Ingredients
59.14 ml extra-virgin olive oil or 59.14 ml butter

1 whole chicken, 3-4 lbs., trimmed of excess fat and cut into 8 pieces

salt & freshly ground black pepper

59.14 ml any mild green herbs, i.e. parsley, dill, basil, sage (optional)
Directions
Preheat the oven to 450 degrees F. Put the oil or butter in a roasting pan and put the pan in the oven for a couple of minutes, until the oil is hot or the butter melts. Add the chicken and turn it couple of times in the fat, leaving it skin side up. Sprinkle with salt and pepper and return the pan to the oven.

After the chicken has cooked for 15 minutes, toss about 1/4 of the herb or herb mixture over it and turn the pieces. Sprinkle on another quarter of the herb and roast for another 10 minutes.

Turn the chicken over (now skin side up again), add another quarter of the herb, and cook until the chicken is done (you'll see clear juices if you make a small cut in the meat near the bone) a total of 30-40 minutes at most. Garnish with the remaining herb and skim excess fat from the pan juices if necessary; serve, with some of the juices spooned over it.

Variations:

Add several cloves of garlic (20 wouldn't be too many).

Add a cup or so of chopped onion, shallot, or leek.

Add a cup or so of sliced fresh mushrooms, after the first 15 minutes of roasting.

Add 2-3 lemons (oranges and limes are good, too). When the chicken is done, squeeze the hot lemon juice over it.

Use Compound Butter, Flavored Oil, or a Vinaigrette from the beginning of the cooking or as a basting sauce during the cooking.

Stir in a dollop of grainy French-style mustard when the chicken is done.

Add a couple handfuls of cherry tomatoes and some black olives after turning the chicken skin side up again.

Stir in a cup of any salsa in the last 10 minutes of cooking or spoon on top of the cooked chicken before serving.