Venezuelan Guasacaca (Without Avocado- Food Cart Version)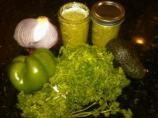 Photo by LexiMStL
Prep Time: 5 mins
Total Time: 10 mins
Serves: 6-10, Yield: 2-3 mason jars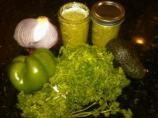 Photo by LexiMStL
About This Recipe
"This recipe does not contain avocado. This is the kind of guasacaca you would find at food carts selling arepas on the calle de hambre (hunger streets) in Venezuela. Every family has their own recipe, and this is ours. Adjusting the taste is very simple once the ingredients are in the blender. Just add more of whatever you'd like."
Ingredients
1/2 bunch cilantro, roots and lower stems removed

1/4 bunch fresh parsley leaves

1/2 purple onion, quartered

1/2 large green bell pepper, seeded and deveined

4 sweet peppers, halved ( aji dulce)

4 garlic cloves, whole

6 tablespoons corn oil

3 tablespoons red wine vinegar

1 tablespoon salt ( to taste)

1 teaspoon cracked pepper, 1/4-1/2 cup water ( to taste, reserved)
Directions
Put all ingredients in blender

Add some of the reserved water .

Blend on coarse setting for 20 seconds.

Stir, then repeat 2 more times, adding water if neccesary.

You want a creamy and not watery consistency with very small chunks. It should be able to go through a "ketcup-like sqeezy bottle" (technical term).

If you want avocado for a creamier version, just add one.