Delicious and Spicy 'who Needs Meat' Vegetarian Taco Casserole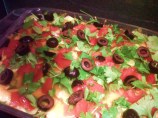 Photo by hxnnxh
Prep Time: 10 mins
Total Time: 25 mins
Servings: 4-6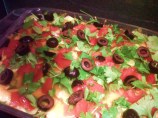 Photo by hxnnxh
About This Recipe
"One day, I was craving for mexican food but I had a vegetarian friend over for dinner, so I decided to experiment with a vegetarian take on my favorite taco casserole dish, which turned out, to my surprise, even better than the original! Instead of using tortilla chips, you can also just scoop some of the casserole in a soft taco, this is actually really good as well, especially when served with some guacemole!"
Ingredients
1 (14 1/2 ounce) cans refried beans

1 (15 ounce) cans black beans, drained

1 (15 ounce) cans red kidney beans, drained

1 (8 ounce) cans sweetcorn, drained

1 (7 ounce) jars hot salsa

1 tablespoon habanero sauce

1/4 teaspoon dried chili pepper flakes

1 (7 ounce) jars jalapeno peppers, drained

2 cups cheese, grated ( Monterey Jack, Cheddar or Gouda)

1/2 cup black olives, sliced

2 scallions, sliced ( use the light green-green parts)

1/2 cup diced tomato

1/2 cup coriander, chopped

1 (8 ounce) bags nacho chips
Directions
Preheat oven to 350°F Combine refried beans, black beans, kidney beans, corn, salsa, habanero sauce, chili flakes, and half of grated cheese. Chop up half the jalapenos and stir inches Transfer mixture to microwave proof oven dish and cover with microwavefoil.

Microwave on high for about 8-10 minutes until hot and bubbly.

Put remaining jalapenos on top, sprinkle remaining cheese over dish, sprinkle scallions and olives.

Transfer to preheated oven until cheese is melted.

Sprinkle tomatoes and chopped coriander on top. Wait 5 minutes and serve with nacho chips.