Nif's Creamy Macaroni and Cheese (Bake or No Bake)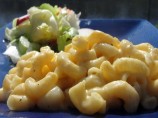 Photo by diner524
Prep Time: 10 mins
Total Time: 40 mins
Servings: 6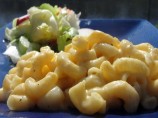 Photo by diner524
About This Recipe
"This simple comfort food dish is great on a cold night. If you don't want to bake this, just read the note at the bottom of the instructions. Also, if you are not baking it, take 20 minutes off of the cooking time. Enjoy!"
Ingredients
1 1/2 lbs shaped pasta

water, to boil pasta in

1 teaspoon chicken bouillon

1/4 cup butter

1/4 cup all-purpose flour

1/2 teaspoon garlic powder

1/2 teaspoon seasoning salt

1/4 teaspoon black pepper, freshly ground

2 1/2 cups skim milk

2 cups old cheddar cheese, low fat, grated

1/4 cup seasoned breadcrumbs (optional)
Directions
Preheat oven to 375°F.

Bring water to a boil and add chicken bouillon. Cook pasta in water for 1-2 minutes LESS than the package instructs. You want it to be more al dente than what you would typically cook it to.

Meanwhile, add butter, flour, garlic powder, seasoned salt and pepper to a saucepan. Stir together until butter is fully melted. Whisk in milk and stirring constantly, bring to a boil. Remove from heat and stir in cheese until melted. Set aside.

Strain pasta when done. Return to pot and stir in cheese sauce.

Spray 4 litre (4 quart) casserole dish and pour in pasta and cheese sauce.

Sprinkle breadcrumbs over top and bake for 20 minutes.

*** If you don't want to bake this, cook pasta to desired doneness, mix with sauce and serve.