Mambo #5 Ice Cream Sandwich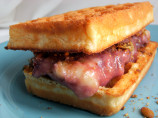 Photo by Lalaloula
Prep Time: 30 mins
Total Time: 40 mins
Servings: 2-4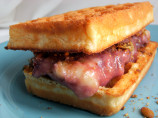 Photo by Lalaloula
About This Recipe
"All I need is a little bit of Mambo "Ice Cream Sandwich". Ladies and Gentlemen, this is Mambo Number 5. A little bit of pistachio in my life. A little bit of cranberry by my side. A little bit of strawberry is what I see. A little bit of chili in the sun. A little bit of brown sugar all night long. A Mambo ice cream sandwich here I am. So do you see what you are about to enjoy? A great mix of flavors with Aphrodisiac pistachio coated with brown sugar and chili mixed in chocolate. Strawberry's and cranberries mixed in to vanilla ice cream brought together inside hot waffles. Can you have just one?."
Ingredients
4 -8 waffles ( depending on size of waffles and how much ice cream you want)

1 cup vanilla ice cream, softened lightly

1 cup chocolate ice cream, softened lightly

1/4 cup pistachios, rough chopped

1 tablespoon brown sugar

1 pinch chili powder

1 teaspoon butter, melted

1/4 cup strawberry preserves

1/4 cup fresh cranberries or 1/4 cup frozen cranberries
Directions
Preheat oven to 350.

Lightly grease a foil lined baking sheet.

In a bowl, combine pistachio, brown sugar, chili, and butter. Pour out onto prepared baking sheet bake for 10 minutes. Remove from oven and let cool in a bowl.

Heat in a small pot preserves and cranberries pop and soften. Remove from heat and cool. Place in a bowl.

Mix pistachio's in to the chocolate ice cream and spoon in a freezable container.

Mix the strawberry/ cranberry mixture into vanilla ice cream and layer over the chocolate ice cream.

Cover and place in freezer till firm. Time depends on how soft your ice cream was.

Toast 4- 8 waffles and fill with ice cream being sure to have both layers on each sandwich. Top with a waffle and enjoy!