Potato and Sausage Skillet Dinner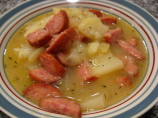 Photo by Papa D 1946-2012
Prep Time: 20 mins
Total Time: 1 hr 10 mins
Servings: 4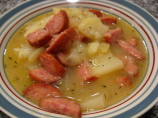 Photo by Papa D 1946-2012
About This Recipe
"This recipe is from the "New England Home Cooking" cookbook by Brooke Dojny."
Ingredients
1 tablespoon olive oil

1 lb kielbasa or 1 lb similar garlicky smoked sausage, cut into 1/4 inch thick slices

1 large onion, sliced

2 lbs potatoes, peeled and sliced ( 5 to 6 cups)

2 tablespoons all-purpose flour

3 tablespoons chopped fresh thyme or 2 teaspoons dried thyme

1/2 teaspoon fresh ground black pepper

2 cups chicken broth

1 cup apple juice or 1 cup apple cider

1/2 cup dry white wine

1 bay leaf, broken in half
Directions
Heat the oil in a very large skillet with sides at least 2 inches high. Add the sausage and onion and sauté over medium heat, stirring, until the onion is softened and the sausage begins to brown, about 6 minutes.

Add the sliced potatoes, sprinkle with the flour, thyme, and pepper and toss gently but thoroughly to combine well. Pour the broth, apple juice, and wine over the potato mixture and add the bay leaf.

Bring to a boil over high heat, reduce the heat to low, and cook, covered, until the potatoes are tender, 35 to 40 minutes.

Remove the bay leaf halves before serving.