Wheatena Maple Pumpkin Cranberry Muffins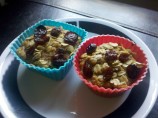 Photo by Mirdreams
Prep Time: 10 mins
Total Time: 30 mins
Serves: 16, Yield: 16 muffins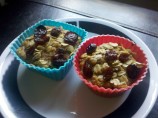 Photo by Mirdreams
About This Recipe
"This is a recipe adapted from one on the Wheatena website."
Ingredients
1 cup solid pack pumpkin ( canned)

1 cup skim milk ( I used skim plus for extra protein)

1/4 cup melted I Can't Believe It's Not Butter, for baking

1/4 cup maple syrup

1 large egg, slightly beaten

1 cup Wheatena

1 cup all-purpose flour

1/2 cup Splenda sugar substitute, with fiber

1/2 teaspoon salt

1 teaspoon baking powder

1/2 teaspoon ground cinnamon

1/2 teaspoon ground allspice

1/4 teaspoon ground nutmeg

1/4 teaspoon ground cloves

3/4 cup craisins ( sweetened dried cranberries)

1 -3 tablespoon quick oatmeal (optional)

1 -3 tablespoon craisins (optional)

i can't believe it's not butter-flavored cooking spray (optional)
Directions
Preheat oven to 400°F.

In a large mixing bowl, combine wet ingredients (pumpkin, milk, egg, butter and syrup) mixing well.

In a separate bowl combine dry ingredients (flour, Wheatena, sugar, baking powder and salt), I like to use a fork for this.

Add dry ingredients to wet and mix until moistened. Stir in 3/4 cup of crasins.

Spray 16 medium silicon muffin cups, set on a cookie sheet, with butter flavored baking spray. Spoon mixture into cups, filling each cup about 75% full (or to line if there is one). If desired sprinkle top with oats and additional craisins, then spray tops with the I Can't Believe It's Not Butter spray (I recommend you do, it makes the muffins much prettier).

Bake for 20 minutes or until a toothpick inserted in the center comes out clean. This is the baking time if you're using the silicon baking cups, if you're not I would check them at 15 minutes.