Shred's Awesome Autumn Baked Meatballs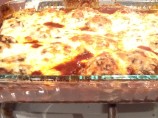 Photo by CIndytc
Prep Time: 30 mins
Total Time: 1 hr
Serves: 3, Yield: 9 Meatballs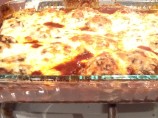 Photo by CIndytc
About This Recipe
"These meatballs are hearty and juicy. The sweet sauce adds flavors sure to inspire thoughts of New England in the fall."
Ingredients
Sauce

12 ounces tomato sauce

2 tablespoons dry sherry

1 cup diced plum tomato

1 cup sliced mushrooms

1 teaspoon ground cinnamon

1 teaspoon ground cloves

1 tablespoon brown sugar

1 teaspoon ground nutmeg

2 teaspoons dried oregano

1 teaspoon dried basil

Meatballs

1/2 lb ground chuck

1/4 lb ground veal

1/4 lb ground pork

1/2 cup breadcrumbs

1/2 cup crumbled mushroom

1/2 cup chopped spinach

1/4 cup shredded parmesan cheese

1 tablespoon Worcestershire sauce

1 large egg

1 cup shredded mozzarella cheese
Directions
Preheat oven to 375.

Sauce: Combine tomato sauce, dry sherry, diced tomatoes, sliced mushrooms, cinnamon, clove, brown sugar, oregano, and basil in a sauce pot and bring to a simmer over medium heat. Reduce to medium low and allow to continue simmering for 30 minutes.

Meatballs: combine meats, bread crumbs, crumbled mushrooms, spinach, Parmesan cheese, Worcestershire sauce, and egg in a mixing bowl.

Mix with hands until well blended. (More bread crumbs may be added if mixture is too thin).

Form 2-inch balls and place in an ungreased baking dish.

Bake at 375 for 12 minutes.

Turn and continue to bake for an additional 12 minutes.

Pour sauce over meatballs and sprinkle shredded mozzarella over the top.

Broil on high for 7-10 minutes (until cheese starts to brown).