Celery "stuffing" - Hcg P2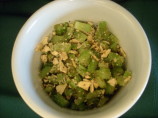 Photo by mums the word
Prep Time: 1 min
Total Time: 3 mins
Serves: 1, Yield: 1 Cup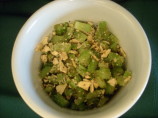 Photo by mums the word
About This Recipe
"When you want some good old fashioned stuffing to go with your chicken. Maybe not exactly the same thing but not bad. =) The melba toast (or Grissini breadsticks) are optional. You can also lay this on your allotted piece of protein (chicken would probably be preferable) and then roll up your chicken around it. Then bake. =)"
Ingredients
1 cup celery ( thinly sliced, or however you like it)

1 pinch salt ( or you can use a dash of Bragg Liquid Aminos but I don't know if that's considered "off protocol")

1 pinch garlic

1 pinch basil

1 pinch marjoram

1 pinch oregano

1 pinch sage

1 pinch black pepper

1 -2 melba toast ( optional, finely crumbled)
Directions
Cut celery into thin slices.

Add seasonings (to taste) and crumbled breadsticks / melba toast (if you choose to use them).

Mix thoroughly.

Microwave on HIGH for about 2 minutes in a microwave-safe bowl. (If you like your celery less crunchy, you can microwave it longer.).