" All In" Meatless Mincemeat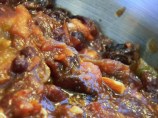 Photo by YummySmellsca
Prep Time: 40 mins
Total Time: 4 hrs 10 mins
Serves: 36, Yield: 9 cups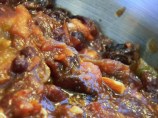 Photo by YummySmellsca
About This Recipe
"This year's variety - based off of what we had in the house and pantry, coupled with the bounty of my backyard! It's a tangy, spicy (and - warning - boozy!) melange that will make Christmas tarts anywhere very happy."
Ingredients
3 large apples, diced

1 1/2 cups finely shredded carrots

1 medium beet, shredded

18 ounces tomatoes, chopped ( preferably green)

1 orange, juice and zest

1 lemon, juice and zest

1 cup fresh cranberries ( or frozen)

3/4 cup demerara sugar

1 teaspoon stevia powder

1/4 cup honey

1/4 cup molasses

1 1/3 cups raisins

4 ounces dried apricots, diced

12 prunes, chopped

3/4 cup diced dates

1/2 cup dried cranberries

1/2 cup currants

2 tablespoons red wine vinegar

1/2 teaspoon salt

1/2 tablespoon allspice

1/4 teaspoon cayenne

1 teaspoon nutmeg

1 tablespoon cinnamon

1 tablespoon fresh-grated ginger

1/3 cup rum

1/4 cup almond liqueur ( like Amaretto)

4 ounces mixed nuts, chopped
Directions
Combine all ingredients except the rum, amaretto and nuts in a large pot. Cover, and cook over low heat for 3 hours.

Stir in the rum, amaretto and nuts, re-cover and cook over low heat 30 minutes.

Ladle into sterilized jars, leaving 1/2" space.

Process for 20 minutes in a water-bath canner. Alternatively freeze up to 1 year.