Irish Blue Cheese and Tomato Soup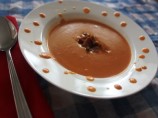 Photo by ForeverMama
Prep Time: 15 mins
Total Time: 1 hr 15 mins
Servings: 6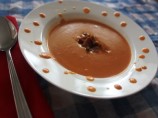 Photo by ForeverMama
About This Recipe
"This is sooo great! I got it from the website Soupchick.com and it is a winner. The tomatoes are roasted and the blue cheese is melted into the soup so every bite you get a bit of the tang. Crispy bacon on top completes the perfect soup!!"
Ingredients
10 large plum tomatoes, cut in half, seeds removed

olive oil

6 ounces lean bacon

1 medium onion, roughly chopped

3 large stalk celery, chopped

3 carrots, chopped

1/4 cup flour

5 cups chicken stock, heated

10 ounces mild blue cheese

fresh black pepper and chopped parsley, for garnish
Directions
Preheat oven to 425. Rub a bit of olive oil on your hands and coat each of the tomato halves. place them cut side down on a rimmed baking sheet. Roast the tomatoes in the oven for 30 to 40 minutes. Remove from the oven and chop the tomatoes roughly in a food processor or by hand.

In the bottom of your soup pot cook the bacon over low heat until it's crisp. Remove to a plate and cover with a paper towel. Reserve a tablespoon of the bacon fat to cook the vegetables.

Add the onion, celery and carrots to the soup pot and cook stirring occasionally for 1 - 2 minutes, until the onion is translucent. Stir in the flour and mix well until it's completely incorporated with the veggies in the pot. Pour in the heated stock and stir well until the stock thickens slightly and the vegetables are soft.

Crumble the cheese into the pot and add the chopped tomatoes. Bring the soup to a boil stirring to help melt the cheese. Remove the pot from heat and use an immersion blender to puree the soup until smooth. (Or let the soup cool slightly and process in batches in a blender or food processor; then return the soup to the pot.). Cook until the soup is hot but not yet at the simmer.

Roughly chop the bacon.Serve the soup in individual bowls,, topped with bacon. Sprinkle the black pepper and chopped parsley if desired.