Minced Garlic Chicken Served in Lettuce Leaves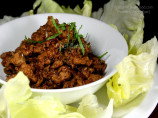 Photo by Chef floWer
Prep Time: 20 mins
Total Time: 35 mins
Servings: 4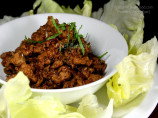 Photo by Chef floWer
About This Recipe
"Recipe comes from Wolfgang Puck's Chinois Restaurant. My WP recipe book says it is a favorite among customers."
Ingredients
1 lb ground white chicken breast

3 green onions, trimmed and minced

1 teaspoon kosher salt ( I omit because the soy sauce has plenty of salt)

1/2 teaspoon fresh ground pepper

1/4 cup seasoned rice wine vinegar

1/4 cup dry white wine

2 tablespoons soy sauce

2 tablespoons hoisin sauce

2 tablespoons peanut oil ( I use much less or you can use a non-stick pan and cooking spray)

1 1/2 tablespoons garlic, finely chopped

1 tablespoon ginger, finely chopped

1/4 teaspoon red pepper flakes, crushed

2 tablespoons cilantro, chopped fresh

1 head iceberg lettuce ( I prefer Butter lettuce)
Directions
In a large bowl, combine the ground chicken and minced green onions. Add the kosher salt and pepper, and mix together well. Form into a large patty. Mix together the rice wine vinegar, wine, soy sauce, and hoisin sauce in a bowl or measuring cup and set aside.

Heat a wok over high heat, or an electric wok to 400 degrees. Add the oil and when smoking, carefully set the ground chicken patty in the wok. Brown on one side, then carefully break up and add the garlic, ginger, and red pepper flakes. Continue to stir until the chicken is thoroughly browned, about 5 minutes. Add the rice wine vinegar mixture and cook, stiring, until the liquid has just about evaporated, about 5 minutes. Remove from the heat. Taste and adjust the seasonings. Stir in the cilantro or if desired, mint.

Cut away the base of the lettuce and remove the outer leaves. Use the smaller inner leaves for cups. Place 2 or 3 cups on each plate, or line a platter, top with salad and serve.