Carrot-Pineapple-Orange Marmalade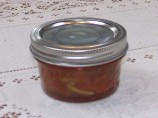 Photo by NorthwestGal
Prep Time: 40 mins
Total Time: 1 hr 15 mins
Yield: 4 half-pints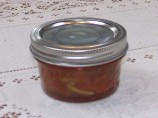 Photo by NorthwestGal
About This Recipe
"This is a wonderful marmalade recipe from Ball's 2010 Blue Book Guide to Preserving. which was their 100th anniversary edition. It adds a new twist to regular orange marmalade. The marmalade is an essential ingredient in a muffin recipe that I wanted to make, so I decided to make a batch for that purpose, and in the end I discovered the marmalade is so good with other things, too. (NOTE: The weight of the pectin might not be exact. The site would not let me list the pectin as just 1 pouch as was listed in the book. It wanted a specific weight, but my pectin pouches were not labeled for size. So I took the pectin weight from the box (that contained 2 pouces) and listed the box weight as 6 ounces.)"
Ingredients
2 lemons

473.18 ml chopped orange pulp ( about 3 medium)

236.59 ml crushed fresh pineapple, drained

236.59 ml shredded carrot

709.77 ml sugar

2.46 ml allspice

1.23 ml nutmeg

1 (85.04 g) envelope liquid pectin
Directions
Peel lemons, removing just a small portion of the white pith. Slice peel into thin strips; set aside. Squeen juice from lemons and measure 1/3 cup lemon juice.

In a large saucepot, combine lemon peel, lemon juice, orange pulp, pineapple, and carrots. Add sugar, allspice and nutmeg, stirring until sugar dissolves. Bring to a boil over medium-high heat. Stir in liquid pectin. Return to a rolling boil. Boil hard 1 minute, sitrring constantly. Remove from heat. Skim foam if necessary. Slowly stir marmalade 2 minutes.

Ladle hot marmalade into hot jars, leaving 1/4-inch headspace. Adjust two-piece caps (lid and band). Process 10 minutes in a boiling-water canner.