Itchy Monkey's Marinara Sauce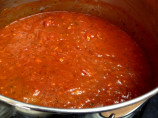 Photo by Chef Itchy Monkey
Prep Time: 30 mins
Total Time: 2 hrs
Servings: 12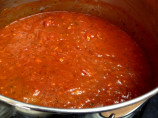 Photo by Chef Itchy Monkey
About This Recipe
"A combination of several favorite recipes. I like to freeze this in 2-serving containers for quick weeknight dinners. Just remove from freezer and thaw over low heat in a sauce pan while your pasta water is boiling. You can also thaw chunks of frozen sauce along with frozen meatballs - try my "Meatballs Italiano" recipe!"
Ingredients
118.29 ml extra virgin olive oil

1 large yellow onion, finely chopped

3-4 garlic cloves, minced

2 stalk celery, finely chopped

2 carrots, peeled and finely chopped

2 roasted red peppers, pureed

4.92 ml sea salt, plus more to taste

2.46 ml freshly ground black pepper

2.46 ml crushed red pepper flakes

14.79 ml dried basil

7.39 ml dried parsley

2 (1587.57 g) can whole peeled tomatoes

2 (340.19 g) can tomato paste

1 (453.59 g) can tomato sauce

118.29 ml red wine ( a good Cabernet)

2 bay leaves
Directions
In a large pot, heat oil over medium-high heat. Add the onions and garlic and saute until the onions are translucent, about 10 minutes.

Add the celery, carrots, salt, pepper, and red pepper flakes. Saute until all the vegetables are soft, about 10 minutes.

While vegetables are simmering, strain whole tomatoes into a bowl (keep the juices), and coarsely chop the tomatoes. Set aside tomatoes and juices.

Add the roasted red peppers (pureed), tomatoes, tomato paste, and dried herbs. Bring to just to a boil. Add red wine and bay leaves.

Reduce heat and simmer uncovered for at least 1 hour until sauce thickens, stirring occasionally. Discard bay leaves and serve over the pasta of your choice.

Can be made ahead and frozen into smaller serving sizes.