Grilled Chicken With Cherry Sauce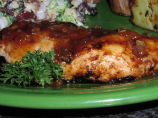 Photo by teresas
Prep Time: 20 mins
Total Time: 55 mins
Serves: 6, Yield: 6 chicken breast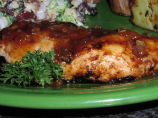 Photo by teresas
About This Recipe
"Turn up the flavor on these boneless chicken breast with smoky char, and a slathering of sauce."
Ingredients
1 tablespoon canola oil

2 1/2 tablespoons finely chopped onions

1 garlic clove, minced

3/4 cup cherry flavored cola

1/3 cup ketchup

1 tablespoon cider vinegar

2 teaspoons Worcestershire sauce

1/2 teaspoon chili powder

1 1/2 tablespoons dark brown sugar

1 tablespoon sweet paprika

1/2 teaspoon salt

1/2 teaspoon ground cumin

6 (6 ounce) skinless boneless, chicken breast halves
Directions
Preheat grill to medium-high heat.

Heat a medium saucepan over medium-high heat, and add oil to the pan, swirl to coat.

Add onion to pan, and saute for 2 minutes, stirring occasionally.

Add garlic to pan and saute 1 minute stirring constantly.

Stir in cherry cola, and the next 4 ingredients through and including chili powder, and bring to a boil.

Reduce heat, and simmer 15 minutes or until sauce reduces to 3/4 cup, stirring occasionally.

Set 6 tablespoons of sauce aside.

Combine sugar, and the next 3 ingredients through and including cumin, and stir well.

Rub this mixture evenly over both sides of chicken.

Arrange chicken on a grill rack, coated with cooking spray, and baste with 3 tablespoons of the remaining sauce.

Grill for 5 minutes.

Turn chicken over, and baste with the remaining sauce, and grill chickenfor 5 minutes, or until done.

Serve with remaining sauce.