Puffy Surprise Oven Pancakes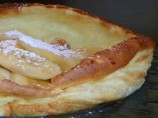 Photo by Baby Kato
Prep Time: 10 mins
Total Time: 20 mins
Servings: 4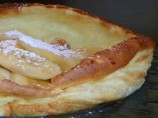 Photo by Baby Kato
About This Recipe
"These popover-like pancakes have a delectable fruit topping!Serve with your favorite fresh fruit.Get these on the table while they still have their puff!"
Ingredients
2 eggs

1/2 cup all-purpose flour

1/2 cup milk

2 tablespoons margarine or 2 tablespoons butter

4 cups sliced fruit ( Use any of the following strawberries, pineapple, bananas, raspberries, peaches, blueberries, pears)

1/2 cup firmly packed brown sugar

1 (8 ounce) containers sour cream
Directions
Heat oven to 425*.

In medium bowl, beat eggs slightly.

Add flour and milk; beat with rotary beater until combined.

In oven, melt 1 tbls.

margarine in each of two 9-inch glass pie plates; spread to cover bottom.

Pour batter over margarine in pie plates.

Bake at 425* for 10 to 15 minutes or until golden brown.

(Pancakes will form a well in the center and edges will puff up.) Spoon fruit into center of pancakes.

Sprinkle with brown sugar and top with sour cream.

Serve immediately.

Yield: 4 servings.