Barbecued Lobster With Red Pepper and Lime Butter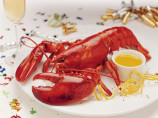 Photo by Info4YourLife
Prep Time: 15 mins
Total Time: 55 mins
Servings: 4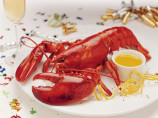 Photo by Info4YourLife
About This Recipe
"You can impress your friends and family this summer with this delicious and healthy barbecued lobster recipe. In fact, lobster is an appetizing and very nutritious barbecue option as it contains less cholesterol, calories, and saturated fats than typical grilling choices such as lean beef, pork, and chicken."
Ingredients
4 clearwater lobsters

1 red bell pepper, roasted, peeled and seeded

2 tablespoons oil

1 cup butter, softened

2 limes, juice and zest

salt and pepper

1 pinch cayenne pepper

2 garlic cloves, chopped

1 lemon, juiced

1 1/4 cups fresh chives and coriander, chopped

ground black pepper, coarse

lemon wedge, as garnish
Directions
Bring large pot of salted water to a boil; plunge in lobsters for 4–6 minutes to blanch. Remove and cool lobsters until you can handle them. Cut in half, lengthwise, remove viscera, and crack claws.

Preheat oven to 425°F Brush red pepper with oil, place on a baking sheet and roast for 15 minutes, turning several times. Remove from oven and cool. Carefully peel off pepper skin, remove seeds and chop pepper. Place softened butter, red pepper, zest and juice from limes in a blender and process until smooth. Season with salt, pepper and cayenne. Set aside at room temperature.

Prepare marinade by combining olive oil, garlic, lemon juice, chives, coriander and black pepper. Rub thoroughly over lobster and let stand 20 minutes. Barbecue lobster flesh–side down on a hot grill until golden. Turn, brush flesh with red pepper butter and cook, shell side down for another 6–8 minutes. Allow the lobster to rest on warm plates, top with remaining red pepper butter.