Smoky Corn Chowder (With Hidden Vegetables!)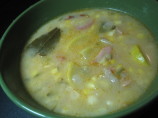 Photo by Sephardi Kitchen
Prep Time: 15 mins
Total Time: 1 hr 15 mins
Servings: 6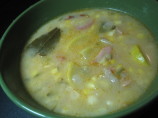 Photo by Sephardi Kitchen
About This Recipe
"Full of fresh vegetables, this chowder is pretty healthy (compared to others) and easy to make! Instead of massive quantities of heavy cream, it is thickened mainly with grated potato and zucchini, which dissolve during cooking and adds additional nutrients. Although I don't have kids, I imagine this would be a good way to sneak vegetables into the diet of picky eaters :)"
Ingredients
1 medium onion, chopped fine

2 teaspoons canola oil

2 medium potatoes ( one grated, one chopped)

1 green zucchini, grated

1 summer squash, chopped ( or grated)

4 ears corn ( or 2 14-oz cans)

1 smoked turkey wings ( or smoked turkey leg)

1 (14 ounce) cans low sodium chicken broth

1/2-3/4 cup heavy whipping cream (optional)

3/4 teaspoon black pepper

1/2 teaspoon paprika

1/2 teaspoon cayenne pepper

3 dashes Worcestershire sauce ( about 2 teaspoons maybe?)

your favorite hot sauce, to taste ( optional- I love Louisiana Hot Sauce)
Directions
In a large saucepan, heat the oil and cook the onions until translucent. Add the grated and chopped potatoes and cook for several minutes, stirring to prevent sticking. Add the grated zuchini and yellow summer squash.

Add the can of chicken broth plus 2-3 cans full of water. Add the whole turkey wing and paprika. Raise heat to medium-high.

Meanwhile, shuck the corn (if using fresh) and wash. Using a sharp knife, slice off the corn kernels into a bowl.

Add the corn to the pot, bring to a boil. Cover, lower heat and simmer for 30 minutes.

Remove the turkey wing and chop the meat into bite-sized pieces, return to the pot. Continue to simmer for 20 minutes, covered.

Add the heavy whipping cream (if using), Worcestershire sauce and hot sauce. Mix well and serve hot.