Vegan Apple Streusel Muffins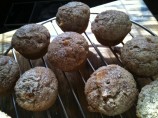 Photo by stitchitter
Prep Time: 10 mins
Total Time: 25 mins
Yield: 12 muffins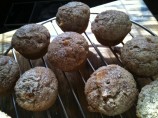 Photo by stitchitter
About This Recipe
"I found the original recipe in The Garden of Vegan cookbook, but I've had to make quite a few modifications to suit my temper-mental oven, our high altitude, and my tastes. My daughter loves them and requests them weekly. We think it's the perfect not-too-sweet breakfast muffin. They are quite moist, and are best eaten within a day of making."
Ingredients
2 tablespoons granulated sugar

1/4 teaspoon cinnamon

1 cup all-purpose flour

3/4 cup whole wheat flour

1/2 cup ground flax seeds

1/2 cup granulated sugar

1 1/2 tablespoons baking powder

1 teaspoon cinnamon

1/4 teaspoon salt

1 apple, finely chopped ( I usually use Gala, and leave the skin on)

1 cup water

1/4 cup olive oil

1 (111 g) unsweetened applesauce
Directions
Preheat oven to 400°F.

In a small bowl stir together the first portion of cinnamon and sugar; set aside.

Mix the dry ingredients together in a large bowl. Make a well in the centre and dump in the wet ingredients and chopped apples. Stir until just mixed.

Spoon into lightly oiled muffin pan, and sprinkle with the reserved cinnamon sugar.

Bake for about 15 minutes, or until a toothpick inserted in the centre comes out clean.