Macadamia and Pineapple Rice Pilaf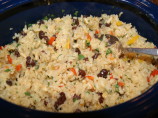 Photo by CaliforniaJan
Prep Time: 10 mins
Total Time: 35 mins
Servings: 4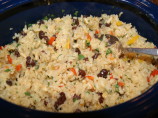 Photo by CaliforniaJan
About This Recipe
"Rice is one of the staple foods in Hawaii. This recipe makes ordinary rice exciting and flavorful. From A Taste of Hawaii cookbook. In a pinch, you could probably use any type of nut. I love that this rice cooks in the oven."
Ingredients
1 tablespoon unsalted butter

1 1/2 cups long-grain white rice

2 teaspoons garlic, minced

1/2 cup red bell pepper, diced

1/4 cup yellow bell pepper, diced

3 cups chicken stock

1/2 cup raisins ( either dark or golden)

1/2 cup roasted macadamia nuts, preferably unsalted, chopped

1 -2 sage leaf, chopped

1/2 teaspoon kosher salt

1/3 cup cilantro, chopped ( or more, if you love cilantro!)

1 cup pineapple, diced
Directions
Preheat your oven to 375 degrees F.

In an oven-proof and flame-proof casserole, set over medium heat, melt the butter and add the rice. Stir for a few seconds, until the butter coats the rice. Add the garlic and stir for a few seconds (not long enough for the rice to change color).

Add the red and yellow peppers and cook for a few seconds. Add the stock and bring the mixture to a gentle boil. Add the raisins, nuts, sage and salt. Cover and place in the oven. Bake for about 18 minutes.

Remove from the oven and let rest for about 10 minutes. Add the chopped cilantro and pineapple. Season if necessary and serve.

Note: If you use salted macadamia nuts, you won't have to add the salt in the recipe.