Bourbon and Honey Smoke-Roasted Pork Tenderloin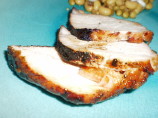 Photo by breezermom
Prep Time: 15 mins
Total Time: 55 mins
Servings: 6-8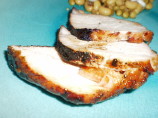 Photo by breezermom
About This Recipe
"A recipe I am posting for the Pacific Islands for ZWT. This sounds delicious and I love grilling recipes. It has common ingredients that are used in recipes for Hawaii."
Ingredients
3 pork tenderloin

1 cup olive oil

1/2 cup Bourbon

3 tablespoons honey

1/2 cup lemon juice

1 tablespoon minced garlic

1 1/2 tablespoons gingerroot, peeled and grated

1/4 cup soy sauce

1/2 cup onion, thinly sliced

2 tablespoons sage, coarsely chopped

2 teaspoons black pepper

1 teaspoon salt
Directions
Combine all marinade ingredients; blend well. The marinade for this dish can be prepared a day in advance; marinating should go on for 24 hours.

Lay the pork tenderloins in a ceramic or glass dish and pour marinade over them. Turn the tenderloins several times during the 24 hours that they are marinating in the refrigerator. When ready to cook, pat the pork dry.

Preheat charcoal in an outdoor grill and soak the wood chips in water for 30 minutes. Add the chips to the hot coals. Roast the pork evenly for about 40 minutes, until its internal temperature is 165°F If pork is to be eaten hot, allow it to sit on the edge of the grill for 10 minutes or so after it is cooked so that the juices can be drawn back into the meat.