Gluten Free Chocolate Chip Cookies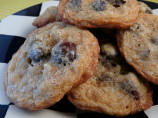 Photo by PaulaG
Prep Time: 30 mins
Total Time: 40 mins
Serves: 18, Yield: 36 cookies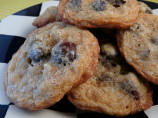 Photo by PaulaG
About This Recipe
"This recipe results in delicious chocolate chip cookies that taste quite a bit like classic Tollhouse recipe cookies, but is gluten free. I've tried many recipes for gluten free treats, and so far this is my favorite - my kid brother didn't even know they were gluten free! You can experiment with the flours if you like, let me know of other combo's that work well! OPTIONAL: you can leave out the egg yolks if your sensitive to them and they'll be just as yummy, only flatter. If you do this freeze them for a little longer."
Ingredients
1/2 cup brown rice flour

1/2 cup tapioca flour

1/2 cup coconut flour

1 cup sorghum flour

1 1/4 teaspoons xanthan gum

1 tablespoon gelatin ( 1 package of Knox)

1 teaspoon baking soda

1 teaspoon salt

3/4 cup rapadura sugar

3/4 cup unrefined cane sugar

1 cup softened butter

1 teaspoon vanilla extract

2 eggs

2 cups chocolate chips

1 cup chopped walnuts
Directions
Mix flours, gelatin, baking soda, xantham gum, salt in small mixing bowl.

In medium mixing bowl beat sugar and vanilla into butter until well mixed and a bit fluffy.

Add eggs one at a time to butter mixture.

Gradually add and beat in flour mixture.

Stir in chocolate chips and nuts.

Make small balls from resulting dough and set on greased cookie sheet.

Place in freezer for 20 minutes (this is optional but helps to keep the cookies from flattening).

Preheat oven to 375.

Place loaded cookie sheets in preheated oven and bake for 8-12 minutes.

Cool for at least 2 minutes before removing from tray to avoid breaking them!

Serve and enjoy!