Blueberry Bread Pudding With Custard Sauce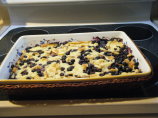 Photo by Chef #517264
Prep Time: 10 mins
Total Time: 1 hr
Servings: 10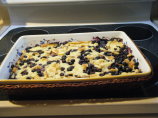 Photo by Chef #517264
About This Recipe
"Blueberries are so yummy, especially in this dessert! Cook time includes time for makeing sauce. The sweet dessert known as Bread pudding (not be confused with bread and butter pudding) is rather more popular in the UK than in the US, but it is hardly unknown in America, especially in the south. Bread Pudding has been around a long time. It's been around in England since the 13th century. It has its origins as a source of food for the poorer elements of society, and was in fact called "Poor Man's Pudding"."
Ingredients
Pudding

2 tablespoons butter or 2 tablespoons margarine

4 eggs, beaten

2 1/2 cups milk

3/4 cup sugar

2 tablespoons lemon juice

8 cups French bread cubes ( 1/2-inch)

2 cups fresh blueberries

1 teaspoon grated fresh lemon rind

Custard Sauce

2 eggs

2 tablespoons sugar

1 dash salt

1 cup milk, scalded

1/2 teaspoon vanilla extract

1/2 teaspoon grated fresh lemon rind
Directions
Pudding: Melt butter in a 13x9x2-inch baking dish; set aside.

Combine next 4 ingredients in a large bowl; beat well.

Add bread cubes, and let stand 5 minutes.

Fold in blueberries and lemon rind; spoon into prepared dish.

Bake at 350* for 35 minutes or until lightly browned and puffed.

Serve warm with Custard Sauce.

Yield: 10 servings Custard Sauce: Combine eggs, sugar, and salt in top of a double boiler, beating well.

Gradually stir about 1/2 cup milk into egg mixture; add remaining milk, stirring constantly.

Bring water in bottom of double boiler to a boil.

Reduce heat to low; cook custard over hot water, stirring occasionally, about 15 minutes or until mixture thickens.

Cool slightly.

Add vanilla and lemon rind.

Yield: 1 1/3 cups.