Baho (Beef, Plantains and Yuca Steamed in Banana Leaves)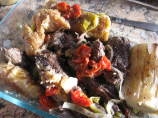 Photo by threeovens
Prep Time: 30 mins
Total Time: 4 hrs 30 mins
Servings: 8-10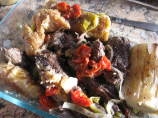 Photo by threeovens
About This Recipe
"Found online; posting for ZWT 7-Central America (Nicaragua). Recipe states: Baho is food for a Sunday afternoon. Start the recipe on Saturday by marinating the meat. Vaho means "mist" in Spanish and evokes the unique cooking method for this hearty meal. **Marinating overnight not included in prep/cooking time.**"
Ingredients
4 lbs beef brisket, cut into large strips

3 tomatoes, seeded and chopped

2 bell peppers, seeded and thinly sliced

3 onions, thinly sliced

9 garlic cloves, chopped

1 cup orange juice

1 cup lime juice

4 tablespoons salt

4 green plantains, peeled and halved crosswise

4 ripe plantains or 4 bananas, peeled and halved crosswise

2 lbs yucca root, peeled and cut into large pieces ( cassava)

banana leaf
Directions
In a large non-reactive bowl, mix the beef with the tomatoes, peppers, onions, garlic, orange juice, lime juice and salt. Cover, refrigerate and marinate overnight.

Add about 4 inches of water to a tamalera or large (5-gallon) pot. (You may have to use two pots if you don't have one big enough to hold the baho in one batch.) Place a rack in the bottom of the pot, or toss in enough wadded up aluminum foil to hold the ingredients out of the water. Place a plate on top of the rack or aluminum foil.

Line the plate and the sides of the pot with banana leaves, letting the leaves hang over the edge of the pot. Make sure the pot is fully lined with leaves, with no openings.

Lay the green and ripe plantains on the bed of banana leaves. Remove the meat from its marinade and layer it over the plantains.

Top the beef with a layer of yuca.

Finally, pour the meat marinade and vegetables over the yuca.

Take the banana leaves hanging over the edge of the pot and fold them over to completely cover the ingredients in the pot.

Cover the pot with a tight-fitting lid.

Bring the water to a boil over medium-high flame. Reduce heat to medium and simmer for about 4 hours.

Add water as necessary to keep it from all evaporating.

Baho is traditionally served on a banana leaf. Each diner gets a piece of ripe plantain, a piece of green plantain, a piece of cassava and a portion of meat. This is all topped with a healthy portion of repollo cabbage slaw.

*Variations.

Banana leaves can be found frozen in most Latin or Asian markets. If you can't find them, use aluminum foil instead. You'll be missing out on the flavor the banana leaves give to the dish though.