Microwave Poached Eggs (Bon Appetit Magazine)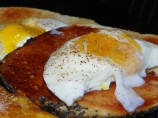 Photo by Baby Kato
Prep Time: 1 min
Total Time: 2 mins
Serves: 1, Yield: 1 poached egg on toast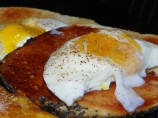 Photo by Baby Kato
About This Recipe
"This method is as effective as poaching eggs on the stove; but it is a good deal faster, and the cleanup is MUCH easier! I heard about this on "Food for Thought" on NPR last week (one of the hosts mentioned that she had read about this technique in the April issue of Bon Appetit Magazine). I decided to try it-- it works! Read More http://www.bonappetit.com/blogsandforums/blogs/badaily/2011/04/how-to-poach-eggs-in-the-microwave.html#ixzz1Lm4NMr7d [April 20, 2011 / Posted by Mary-Frances Heck]"
Ingredients
1/2 cup water

1 pinch salt (optional)

1 egg

1 pinch sea salt ( to taste)

1 pinch fresh ground black pepper ( to taste)
Directions
Fill a 1-cup (or larger) bowl (or mug) with 1/2 cup of water.

Add a pinch of salt to the water if you like.

Crack an egg into the bowl; make sure the egg is completely submerged.

Cover the top of the bowl with a small plate or saucer.

Microwave on HIGH power for 1 minute.

Remove from microwave and check to see if white of the egg is firm.

If the egg white or the yolk needs more cooking, re-cover the bowl and microwave on HIGH for another 15 seconds.*.

Using a slotted serving spoon or large fork, carefully transfer the egg to your toast, your plate, etc., and sprinkle with sea salt and freshly ground black pepper, to taste.

*Please note that microwave cooking times will vary.When I make this, I take the egg out after 1 minute on HIGH and flip it over in the bowl, re-cover, and cook on HIGH for another 15 seconds.