Canelazo - Spiced Cinnamon Rum Drink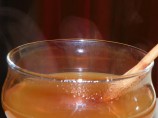 Photo by Baby Kato
Prep Time: 5 mins
Total Time: 15 mins
Servings: 4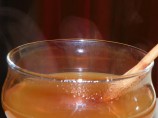 Photo by Baby Kato
About This Recipe
"Canelazo is a drink that will warm you up on a cold night high in the Ecuadorian mountains. It's made from brown sugar, cinnamon and cloves, orange and lime juice, and the fiery concoction known as aguardiente (or "fire water"). Aguardiente is a broad term for high alcohol content beverages distilled from different things. The kind they enjoy in South America is made from cane sugar, so rum makes a great substitute if you can't find aguardiente."
Ingredients
3 cups water

2/3 cup light brown sugar

2/3 cup dark brown sugar

1 lime, juice of

1 pinch salt

1 teaspoon whole cloves

4 -6 cinnamon sticks

1/2 cup orange juice

4 ounces aguardiente (or to taste) or 4 ounces rum ( or to taste)
Directions
Bring the water, sugar, lime juice, salt, cinnamon sticks and cloves to a boil. Simmer for 5 to 10 minutes.

Remove from the heat, and stir in the orange juice. Add the aguardiente or rum (to taste).

Reheat, without boiling. (If it boils, the alcohol will boil away). Strain and serve hot.