Liberian Black-Eyed Pea Soup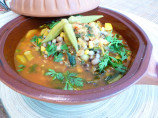 Photo by awalde
Prep Time: 15 mins
Total Time: 1 hr 5 mins
Servings: 6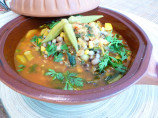 Photo by awalde
About This Recipe
"Black-eyed peas are a favorite ingredient in all of the regions of West Africa. There, traditional soups are rather plain, so to add cornmon greens, and/or okra to this soup would be considered quite "fancy" by most West Africans. And if you add the quantity of cayenne that most West Africans would, this soup would be considered insanely fiery by the majority of North Americans! Try varying the combination of vegetables a bit, playing with the quantities of the optional ingredients, or doubling the amount of greens. Reduce the water and you'll have a stew, delicious served on polenta or grits. Top each bowl with chopped scallions or more chopped cilantro."
Ingredients
1 cup dried black-eyed peas

2 garlic cloves ( peeled )

6 cups water, divided

2 cups chopped onions

1 cup diced celery

2 tablespoons water

1 pinch cayenne ( more to taste )

2 teaspoons ground allspice

1 pinch dried thyme

1 green bell pepper ( or red, seeded and chopped )

1 cup fresh corn kernels ( or frozen) (optional)

1 cup sliced okra ( fresh or frozen )

2 cups chopped fresh collard greens ( or kale or chard or spinach) (optional)

3 cups diced tomatoes with juice ( 28-ounce can)

1 tablespoon chopped fresh cilantro ( optional, up to 2 )

salt & fresh ground pepper ( to taste)
Directions
In a covered saucepan, bring the black-eyed peas, garlic cloves, and 4 cups of the water to a boil.

Reduce the heat and simmer until tender, about 45 minutes.

Meanwhile, in a nonreactive soup pot, sauté the onions and celery in the 2 tablespoons water on medium heat for about 5 minutes, until the onions are translucent.

Stir in the cayenne, allspice, and thyme and cook for 1 to 2 minutes, stirring frequently.

Add the bell peppers, stir well, cover, and cook for 3 to 4 minutes.

Stir in the corn, okra, tomatoes, and the remaining 2 cups of water.

Cover and bring just to a boil; then add the greens, gently simmer until tender, and remove from the heat until the black- eyed peas are ready.

When the black-eyed peas are tender, remove the garlic cloves or mash them with a fork against the side of the pan.

Add the black-eyed peas and their cooking liquid to the soup pot.

Stir in the cilantro, if using, and add salt and black pepper to taste.