Traditional Senegalese Soup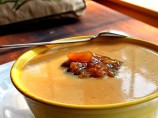 Photo by Andi of Longmeadow Farm
Prep Time: 10 mins
Total Time: 2 hrs
Serves: 6-8, Yield: 10.0 cups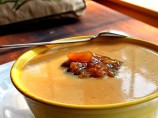 Photo by Andi of Longmeadow Farm
About This Recipe
"This is a traditional creamed curry soup from Senegal that features a mix of fresh African ingredients and spices. It is most often served chilled, but many reviewers stated the soup was even better when served warm. I found the recipe on the Epicurious site and was intrigued by the number of favorable reviews it has received. The introduction states that this version of the soup has been served at '21' restaurant for years."
Ingredients
3 tart apples ( such as Granny Smith)

2 tablespoons unsalted butter

2 carrots, chopped

1 large white onion, chopped

1/4 cup raisins

1 garlic clove, chopped

3 tablespoons curry powder

2 tablespoons all-purpose flour ( preferably unbleached)

8 cups chicken broth

1 tablespoon canned tomato puree

1/2 cup heavy cream

2 1/2 tablespoons mango chutney ( garnish)
Directions
Peel, core and chop apples.

In a heavy kettle heat butter over moderate heat until foam subsides. Add apples, carrots, onion, raisins, and garlic, stirring occasionally, and cook until they begin to soften, about 10 to 12 minutes. Add curry powder, cook and stir, for 1 minute. Add flour and cook, stirring, for 2 minutes. Stir in broth and tomato puree, and cover kettle. Let simmer, covered, for 1 hour and 20 minutes. Stir in cream and salt to taste and simmer, uncovered, 10 minutes.

Cool soup. While is still warm, place in a food processor or blender and puree in batches until smooth. Strain soup through a sieve into a large bowl and serve while still warm, or chill 2 to 3 hours and serve cold.

Garnish each serving with about 1/2 teaspoon chutney.