Honey Chipotle Mexican Rice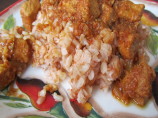 Photo by Rita~
Prep Time: 10 mins
Total Time: 40 mins
Servings: 4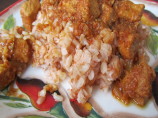 Photo by Rita~
About This Recipe
"Slightly sweet and spicy rice to serve with any Mexican meal."
Ingredients
1 chipotle chile in adobo, chopped

198.44 g fire-roasted tomatoes, undrained ( 1/2 of a 14 oz can)

1 small yellow onion, chopped

1 garlic clove, peeled and crushed

59.14 ml water

2.46-4.92 ml salt

1.23 ml red pepper flakes

59.14 ml honey

14.79 ml cider vinegar

1-2 medium jalapeno

236.59 ml MINUTE White Rice

29.58 ml vegetable oil

2 minced garlic cloves

236.59 ml chicken broth

2.46-4.92 ml kosher salt
Directions
In a small saucepan, bring chile, tomatoes, water, onion, garlic, salt and red pepper to a boil for 2 minutes, then reduce to a simmer. Cook, slowly, covered for 15 minutes.

Puree mixture in a blender (or use an immersion blender) until smooth. Stir in the honey and vinegar. You can make this ahead and refrigerate for a couple of days if needed. NOTE: You will need exactly 1 cup of the puree for the rice.

Remove ribs and seeds from jalapenos and discard. Mince flesh and set aside.

Place rice in a fine mesh strainer and rinse under cold running water until water runs clear- about 1 1/2 minutes.Shake rice vigorously to remove excess water.

Heat oil in a large skillet or saute pan over medium high heat about 2 minutes. Drop a few rice grains in and if they sizzle then it is ready. Add rice and fry stirring until rice is light golden and translucent, about 5 minutes.

Reduce heat to medium, add garlic and minced jalapenos and cook , stirring constantly until fragrant, about 1 1/2 minutes.

Stir in broth, pureed mixture, and salt. Stirring frequently,continue cooking for 5 minutes or until rice is cooked through and the liquid has been absorbed, If the rice looks too dry before it is cooked through, add more puree or stock or plain water by tablespoonfuls to reach desired consistency.