Diabetic Banana Pecan Pie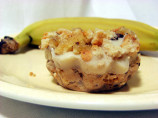 Photo by Lalaloula
Prep Time: 20 mins
Total Time: 20 mins
Servings: 8-12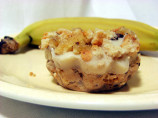 Photo by Lalaloula
About This Recipe
"From South Africa,it's actually a very easy recipe. Don't be put off by the apparent length. When your family tastes this pie you'll be glad you made it. This banana pie proves that diabetics have no need to eat plain unappetizing food. I found it on the Afri Chef site"
Ingredients
Crust

1 cup sugar free cookie crumbs

1/4 cup finely chopped pecans

2 tablespoons margarine

Banana Pecan Pie Filling

2 medium bananas ( reserved)

1 3/4 cups skim milk

1/4 cup unsweetened apple juice concentrate

1/4 cup cornstarch

2 tablespoons margarine

4 teaspoons sugar substitute

1 teaspoon vanilla extract

1 pinch salt

For Topping
Directions
To make Crust:.

Soften the margarine.

Blend cookie crumbs, pecans, and margarine in a bowl to make the crust.

Press the pie crust into a 9 inch pie plate.

Chill for 30 minutes.

To make Filling:.

In a saucepan, heat all filling ingredients, except margarine, to a boil over medium heat, whisking until smooth (about 10 minutes). Reduce heat and simmer for 1 minute. Scrape into a bowl.

Whisk in remaining 2 tablespoons of margarine until smooth. Cover with plastic wrap and cool to room temperature. Slice the bananas.

In prepared pie plate, arrange sliced bananas in 1 layer. Whisk cooled filling and pour evenly over bananas.

To Make Topping:.

Mix remaining cookie crumbs and pecans together and sprinkle over the filling. Chill the Banana Pecan Cream Pie for 1 hour before serving.