All American Steak Sandwich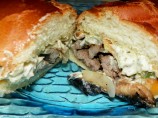 Photo by Baby Kato
Prep Time: 15 mins
Total Time: 30 mins
Servings: 2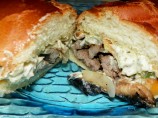 Photo by Baby Kato
About This Recipe
"Meat, potatoes, and vegetables all in one terrific sandwich. The gem? Made all in one pan. Enjoy! (Made for RSC #16)"
Ingredients
Sauce

potatoes

1/4 cup vegetable oil ( for frying)

2 -3 fingerling potatoes, sliced thin ( or use 1 large potato)

kosher salt, to taste

Rolls

vegetables and meat

1 small green bell pepper, sliced into strips

1 small sweet onion, sliced into strips

1/2 lb beef tips, kept thin ( sliced as needed to keep them thin)

salt and black pepper, to taste

1 portabella mushroom, cap sliced
Directions
SAUCE: Mix all sauce ingredients well, cover and set aside.

POTATOES: Heat oil in a skillet to 350°F Add sliced potatoes and fry, turning occasionally, until done (about 7-10 min). Drain potatoes on paper towels, and sprinkle lightly with salt.

ROLLS: To the pan with oil, reduce heat to medium and add the butter. When melted, add the garlic and cook 2-3 minutes until garlic is tender.

Place the cut side of the rolls face down into the garlic butter. Press gently to coat. Place rolls onto a baking sheet, butter side up. Broil in oven or toaster oven until nicely browned and toasted. Remove from broiler and set rolls onto plates. Add a slice of Swiss cheese to the bottom bun.

VEGETABLES: To the pan over medium-high heat, add the peppers and onions. Cover and let steam 2-3 minutes. Remove lid, stir, and continue cooking until onions are translucent and peppers done. Place vegetables in a dish and set aside.

MEAT: To the pan add a bit more olive oil and butter if necessary. (enough to sear steak). Add seasoned steak and let sear for 2-3 minutes. Toss and continue searing until almost desired doneness. Add mushrooms to pan and saute' for 2-3 minutes until mushrooms are browned and flavored with the meat juices. Drain meat and mushrooms onto a paper towel.

ASSEMBLY: To each bottom bun, add the meat, then vegetables, then potatoes. To the top bun, spread with sauce and place over top. Grab lots of napkins, a fork (to catch what falls on the plate), and enjoy.

ALTERNATIVE: Wrap sandwich in foil and eat 'to go' style.