Caramelized Onion, Macadamia Pesto on Wheat Flax Seed Pizza Crus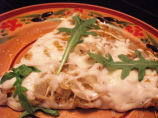 Photo by FLKeysJen
Prep Time: 40 mins
Total Time: 1 hr 5 mins
Yield: 4 wedges of pizza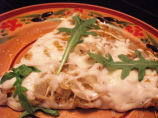 Photo by FLKeysJen
About This Recipe
"Caramelized Onion Pizza with Macadamia Nut Pesto and Whole Wheat Flax seed Pizza Crust"
Ingredients
Whole Wheat Flaxseed Pizza Crust

11.09 ml active dry yeast

236.59 ml warm water

473.18 ml whole wheat flour

59.14 ml flax seed meal

4.92 ml salt

14.79 ml honey or 14.79 ml brown sugar

Macadamia Nut Pesto

473.18 ml basil leaves, packed

78.07 ml parmesan cheese, grated

118.29 ml olive oil

78.07 ml macadamia nuts

1 garlic clove

1 red pepper, fresh

14.79 ml salt

14.79 ml pepper

4.92 ml lemon juice

Carmelized Onion Ingredients

1360.77 g sweet onions, thinly sliced

9.85 ml rosemary ( fresh or dried)

2.46 ml salt

29.58 ml olive oil

2.46 ml black pepper

118.29 ml arugula

170.09-226.79 g mozzarella cheese or 170.09-226.79 g ricotta cheese
Directions
Directions for crust:.

Mix yeast and honey or brown sugar in warm water. Sprinkle yeast on top. Let sit 10 minutes until foamy. In large bowl, mix flour and flax seed meal with salt. Add yeast mixture. Mix well. Knead approximately five minutes. Let rise 20-30 minutes. Roll out and place on pizza baking dish. (You can decide if you wish for a deep dish or thin crust pizza). Poke the crust several times with fork several times to avoid bubbling. Bake at 350 degrees for 5-10 minutes before placing toppings on pizza.

Directions for pesto;.

Using a food processor add the basil and nuts and pulse for approximately 30 seconds.

Add the red pepper and garlic. Mix together.

Slowly add the olive oil.

Add the remaining ingredients and pulse together, mixing well.

Add the pesto to the top of the pizza crust and complete the pizza with the following ingredients.

Directions for Carmelized Onion and final assembly:.

In a large skillet add olive oil over medium heat. Add onions and cook about five minutes. Add salt, pepper and rosemary and cook an additional 15 -20 minutes over low heat stirring frequently until onions take on a brown color.

Heat oven to 475 degrees F.

Top pizza dough with onion mixture. Bake 10 minutes. Remove from oven, add cheese and allow to bake in the oven further until cheese browns. Remove from oven and sprinkle arugula over top.