Peruvian Yellow Pepper Sauce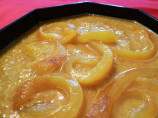 Photo by awalde
Prep Time: 35 mins
Total Time: 35 mins
Serves: 4, Yield: 1 cup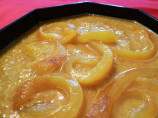 Photo by awalde
About This Recipe
"Adapted from the Barbecue Bible Sauces Rubs and Marinades. This is an adaptation of Aji Amarillo Sauce with ingredients that may be a little easier to find. This is a good sauce to serve with grilled meat, poultry or seafood, or in recipes that call for Aji Amarillo Sauce. You can substitute additional vinegar for the lime juice."
Ingredients
1 large yellow bell pepper

2 scallions, trimmed and finely chopped ( white and green part)

2 garlic cloves, minced

1 jalapeno, seeded and minced

3 tablespoons olive oil

2 tablespoons distilled white vinegar ( or more to taste)

1 tablespoon fresh lime juice

1/2 teaspoon ground cumin

1/2 teaspoon ground turmeric

1/4 teaspoon ground cayenne pepper ( or to taste)

salt and pepper
Directions
Preheat grill to high.

Place pepper on grate and grill until black on all sides, 4-6 minutes per side.

Transfer to a plate and let cool.

Scrape off the burnt skin. It's okay if you don't get all of it.

Stem and seed the pepper, and cut into 1" pieces.

Place pieces in a food processor or blender.

Add all remaining ingredients.

Puree to a smooth paste.

You should be able to pour the sauce. If it is too thick to pour, mix in a little water.

Serve at room temperature.

Can be stored, covered and refrigerated, for up to 1 week.