Wicklewood's 3 Cheese and Broccoli Muffins (Gf)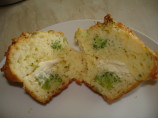 Photo by WicklewoodWench
Prep Time: 10 mins
Total Time: 35 mins
Yield: 12 muffins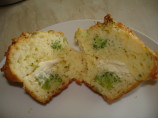 Photo by WicklewoodWench
About This Recipe
"These little gluten free treats started life as Ainsley Harriot's Spinach, cheddar and parmesan muffins, which sounded so delicious, but just made me mad that I couldn't try them. So I decided to recreate them...I chose tender stem or purple sprouting broccoli for this recipe simply because it is so tender there is no need to blanche first. You could use ordinary broccoli just chop the florets finely and perhaps steam in the microwave for one minute before adding to the mixture. If you don't mind paying the prices for Boursin the by all means use it, however, I prefer to make my own and save the pennies,,,(must be the Scot in me!!)I use LifeIsGood's Make Your Own Boursin Cheese - Paula Deen. I've found that even non coeliacs love these and they are great, not only for lunch with a light salad but also for picnics and lunch boxes"
Ingredients
1 lb gluten-free flour, mix

2 teaspoons baking powder

1 teaspoon xanthan gum

1 teaspoon mustard powder

seasoning

3 large eggs, beaten

12 fluid ounces milk

3 fluid ounces olive oil

4 ounces cheddar cheese, grated

3 ounces parmesan cheese, grated

5 ounces broccoli tender stem broccoli

7 ounces boursin cheese ( or similar)
Directions
Preheat oven to 180.

Lightly oil the inside of a muffin tin.

In a large bowl, mix together the flour mix, baking powder, xanthan, mustard and seasoning.

Add the cheddar, parmesan and broccoli; gently combine with the flour mixture.

In a large jug, combine the milk eggs and oil together.

Add to the dry mixture and combine until just comes together. (Don't over mix).

Line the base of each muffin mould with 1 tablespoon of mixture, flattening slightly if needed.

Place a teaspoon of the boursin in the centre of the muffin moulds.

Cover with remaining muffin mixture (ensuring that none of the cream cheese is exposed).

Bake in the middle of the oven for 25 minutes.

Serve warm or cold.