Curried Lentil and Chickpea Stew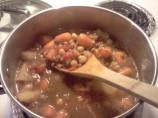 Photo by Izzy The Terrible
Prep Time: 15 mins
Total Time: 1 hr
Servings: 4-6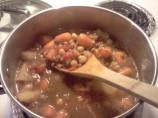 Photo by Izzy The Terrible
About This Recipe
"This recipe converted at least 3 people I know to curry, and many to lentils. Even my husband - who previously disliked lentils and curry - LOVES this recipe. Chunks of carrots and potatoes make this recipe hearty, while the lentils and Chickpeas give it plenty of fiber, nutrients and protein. Omit the Chickpeas if you're not a fan, or try it... you just might like it! This was my first vegan recipe."
Ingredients
3 cups vegetable broth or 3 cups chicken broth

1 cup green lentil

1 cup garbanzo beans, canned

1 -2 tablespoon curry powder

1 -2 potato, cubed

1 cup carrot, cut into large chunks

1/2 medium onion

salt and pepper

red pepper flakes (optional)
Directions
1. In a large saucepan, heat oil over medium heat. Sautee onions until translucent.

2. Add curry powder, and cook until spice is fragrant. About 30 seconds.

3. Add broth, carrots and rinsed lentils and rinsed lentils. Bring to a boil, then reduce to a simmer and cook for 10 minutes.

4. Add cubed potatoes. Cook 15 more minutes.

5. Add Garbanzo beans. Cook 15 – 25 more minutes or until everything is cooked and lentils are tender.

The times on the recipe are estimated times. There is no science about this stew. Additionally, if you want it thicker, remove a portion of the stew, and blend it using a standard or immersion blender.

Enjoy as is, or over rice!