Adzuki Bean, Brown Rice Barley Salad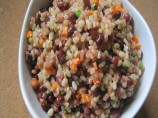 Photo by magpie diner
Prep Time: 15 mins
Total Time: 1 hr 5 mins
Yield: 4 as a side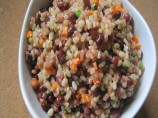 Photo by magpie diner
About This Recipe
"I ran across the idea for a rice salad using adzuki beans online somewhere, which had similar based ingredients but a different dressing. I've paired the nutritious ingredients of brown rice, adzuki beans and barley here with an Asian flavoured dressing. Not difficult to prepare, but it does involve some boiling and overnight soaking of the beans. In my case I make it with leftover brown rice so there is one less step. This could be spiced up with some cayenne or chili paste as you please, and of course the addition of flax oil is completely optional. I think this would be good for 4 sides, or 2 mains. I haven't included the overnight soaking in the prep time."
Ingredients
1/2 cup dry adzuki beans ( aka azuki beans)

1 cup cooked brown rice ( leftovers work well here or boil up about 1/2 a cup of raw rice)

1/4 cup pearl barley

1 1/2 tablespoons sesame oil

1 1/2 tablespoons rice wine vinegar

1 1/2 tablespoons Braggs liquid aminos ( or tamari or soy...start with 1 tbsp then taste test)

1/2 lime, juice of

1 teaspoon fresh ginger ( minced or grated, about a 1-inch piece, or 1/2 tsp dried ground ginger)

1 garlic clove ( minced or grated)

1/2 teaspoon sugar

1/4 teaspoon coriander powder

1 tablespoon flax seed oil (optional)

2 green onions, sliced ( green & white parts)

1 carrot, grated

1 tablespoon sesame seeds ( plus more for garnish)

1/4 cup fresh cilantro, chopped (optional)
Directions
Soak the beans overnight in plenty of water. When ready to cook, rinse and drain them from their soaking liquid. Place into a medium pot with plenty of water and bring to a boil. Cover (ajar), reduce to medium simmer and allow to cook for about 50 minutes. Freshness of the beans makes a difference, yours might not take as long so check along the way. Set the timer for 20 minutes. Make your rice at same time if need be.

20 Minutes into the beans cooking, add the 1/4 cup of barley. If you are worried about the colour from the beans staining the barley, then cook it separately.

While that cooks, make the dressing by mixing the sesame oil, vinegar, braggs/soy, lime juice, ginger, garlic, sugar, coriander and flax oil. Set that aside.

In your salad serving bowl add the carrot, green onions, sesame seeds and cilantro.

Once the beans & barley are cooked, drain then cool them off well in cold water, drain again. Do same with your rice if need be.

Mix the beans, rice & barley and dressing to the veg in your bowl, mix well and garnish with some extra sesame seeds.