Sweet & Hot Asian Noodles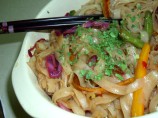 Photo by Karen Elizabeth
Prep Time: 20 mins
Total Time: 30 mins
Servings: 4-6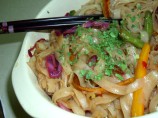 Photo by Karen Elizabeth
About This Recipe
"I often serve this as a side dish to my Asian dinners. I sometimes vary it and add chicken or shrimp for a one dish meal. It's very tasty and my family loves it."
Ingredients
4 1/2 ounces dried rice noodles

2 tablespoons peanut oil

1 teaspoon fresh ginger, grated ( I cheat and use ginger paste)

1 garlic clove, crushed

4 1/2 ounces bamboo shoots, drained and sliced into batons

4 1/2 ounces bean sprouts

2 medium carrots, sliced into batons

1 small white cabbage, shredded

2 tablespoons Thai fish sauce

2 tablespoons soy sauce ( I use more to season when I'm about to serve)

2 tablespoons plum sauce

chili paste ( I use Sriracha)

2 teaspoons sesame oil

1 tablespoon light brown sugar

1 lime, juice of

1 lime, rind of

3 1/2 ounces daikon radishes, sliced into thin batons

1/4 cup coriander, roughly chopped

2 tablespoons sesame seeds, toasted
Directions
Cook the noodles in large pot of boiling water, following instructions on the packet.

Heat the oil in a wok or very large pan and stir fry the ginger and garlic for 2 to 3 minutes over medium heat until golden.

Drain the noodles and set them aside add the bamboo shoots to the wok, increase the heat to high and stir fry for a further 5 minutes.

stir in the sauces, sesame oil, sugar and lime juice.

Add the daikon and coriander, toss to mix sprinkle with sesame seeds and serve.

Sometimes I add a little bit of sweet chili sauce when I want it sweeter or for another variation you can add chicken or shrimp for a full meal.