Shanghai Bok Choy/ Baby Bok Choy (2 in 1 Meals)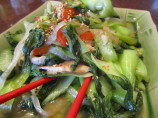 Photo by Rita~
Prep Time: 30 mins
Total Time: 45 mins
Servings: 10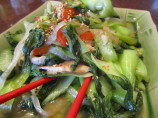 Photo by Rita~
About This Recipe
"Bok choy is a member of the Chinese cabbage family and is sweet, crispy, juicy. Serve as a side dish or over steamed brown rice or soba noodles. The next day add broth to the leftover bok choy for a beautiful nutritious soup. Bok choy holds a lot of sand be sure to clean as directed here. Trim the bottoms of the bok choy to separate the stalks. Discard the bottoms. In a large bowl filled with cold water, gently wash the bok choy in several changes of water until thoroughly cleaned. Sand and grit will settle in the bottom of the bowl."
Ingredients
2 -3 lbs baby bok choy, cleaned read description

2 teaspoons peanut oil

2 teaspoons sesame oil ( dark)

4 garlic cloves, minced

1 teaspoon minced peeled fresh ginger

2 -3 serrano chilies, minced ( this is what I had but you can use red pepper flakes, Thai chilie`s....)

1 large red bell pepper, sliced

1 large onion, halved and sliced

5 ounces shiitake mushrooms, sliced

1/2 cup low sodium vegetable broth

2 -4 tablespoons reduced sodium soy sauce

1 teaspoon sugar

1 tablespoon cornstarch

1 teaspoon toasted sesame seeds

Leftover soup

3 cups chicken or 3 cups vegetable broth

miso, one teaspoon per bowl

tofu

cooked chicken
Directions
Heat a very large nonstick pan or wok over med-high heat.

Add the oils to the pan and swirl to coat.

Add in the garlic, ginger, chilie`s and red bell peppers stir-fry until fragrant--about 30 seconds.

Add in the mushrooms and bok choy stir fry for 3 minutes.

Stir in the broth, soy sauce, sugar, and cornstarch; bring to a boil stirring constantly.

Cook 1 minute or until thickened.

Remove from heat and sprinkle with sesame seeds.

Season with additional soy sauce if desired.

Leftover soup:.

Heat broth add leftover bok choy to warm. Dissolve the miso in some hot water then stir into soup and serve immediately. You can add tofu, or diced cooked chicken and garnish with scallions.