Pad Thai With Chicken and Shrimp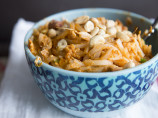 Photo by Dine & Dish
Prep Time: 15 mins
Total Time: 25 mins
Servings: 8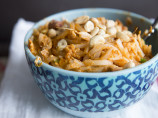 Photo by Dine & Dish
About This Recipe
"PLEASE NOTE: This calls for one 1/2 pound package of noodles. Not one pound. Not a pound and a half. I'm not sure how else to write it so that it's clearer. I think this is a great Pad Thai recipe - quick and easy. It's certainly a favourite in our house. I would suggest making a double batch of the sauce, so the dish is even more flavorful. For those with milder tastes, cut back on the red pepper flakes. The recipe as is has quite a bite to it. This isn't a "authentic" Pad Thai recipe, so if that's what you are looking for, then this may not be it."
Ingredients
1 (1/2 lb) package rice noodles

3 tablespoons fish sauce

2 tablespoons ketchup

1 tablespoon Worcestershire sauce

2 teaspoons chili-garlic sauce ( sambal oelek)

2 tablespoons sugar

2 tablespoons peanut oil

6 garlic cloves

1 lb boneless skinless chicken breast

1/2 lb fresh shrimp

1/2 teaspoon red pepper flakes ( hot)

2 eggs

2 cups bean sprouts

5 green onions

1 cup chopped cilantro ( coriander)

3 limes

1/4 cup coarsely chopped roasted peanuts
Directions
Place noodles in large bowl and cover with boiling water for about 10 minutes.

Drain.

Set aside.

Mix together fish sauce, ketchup, Worcestershire, chili-garlic sauce and sugar.

Set aside.

Cut chicken into 1" cubes.

Peel and de-vein raw shrimp and chop coarsely.

Finely chop garlic.

Heat peanut oil in large frying pan or wok.

Add garlic, chicken, shrimp and red pepper flakes.

Stir until shrimp turns pink.

Add sauce mixture and stir for 3 more minutes.

Add beaten eggs and stir constantly for one minute.

Add drained rice noodles and toss until coated.

Stir in bean sprouts, onions and 1/2 cup cilantro.

Stir and toss for a minute or so, until heated.

Spoon out onto large serving platter.

Sprinkle with chopped peanuts and remaining cilantro.

Top with slices or wedges of lime, which will be used to squeeze over noodles upon serving.