Savory Pot Roast a La Pressure Cooker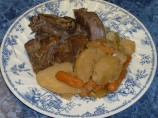 Photo by PanNan
Prep Time: 20 mins
Total Time: 1 hr 20 mins
Servings: 6-8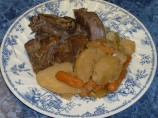 Photo by PanNan
About This Recipe
"The flavor of this pot roast is wonderful. The pressure cooker seems to force the seasoning right into the meat and vegetables. Sunday dinner after church in the south was fried chicken, but in the MidWestern U.S. region, it was potroast. YUM."
Ingredients
3 lbs chuck roast

1 tablespoon Season-All salt

1 tablespoon olive oil

1 cup peeled baby carrots

1 cup chopped celery

1 cup sliced onion

1 3/4 cups water

1/4 cup Worcestershire sauce

5 medium potatoes, peeled and cut in half lengthwise

1/2 teaspoon pepper

2 teaspoons beef bouillon powder or 2 teaspoons beef base

2 bay leaves
Directions
Coat roast with SeasonAll.

In a non-stick pan (I use my pressure cooker base for this), brown meat in olive oil, on high, on all sides to sear in juices.

Add carrots, celery and onions when meat is nearly browned.

Add water and Worcestershire sauce.

Place potato halves on top of roast and add pepper, beef bouillon powder and bay leaves.

Lock pressure cooker lid in place and bring to pressure over medium-high heat.

Adjust heat to stabilize pressure at about medium pressure.

Cook for one hour.

Release pressure naturally - don't use quick release.

As all pressure cookers are different, test meat and fork the potatoes to make sure they are done.

If not, add water, if necessary, and return to pressure.

When done, release pressure and serve.