Pollo a La Brasa (Peruvian Grilled Chicken)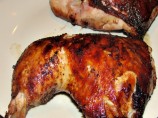 Photo by diner524
Prep Time: 8 hrs
Total Time: 8 hrs 45 mins
Servings: 4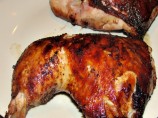 Photo by diner524
About This Recipe
"This is a regional dish from Peru that I found on Epicurious. Many versions of this recipe abound, though soy sauce is the common ingredient in all of them. The title suggests it's grilled, but this dish can be oven roasted, too. But please plan accordingly though, as the chicken needs to marinate for 8 to 24 hours."
Ingredients
1/3 cup soy sauce

2 tablespoons fresh lime juice

5 garlic cloves

2 teaspoons ground cumin

1 teaspoon paprika

1/2 teaspoon dried oregano

1/2 teaspoon black pepper

1 tablespoon vegetable oil

1 (3 1/2 lb) whole chickens, quartered

1 lime, quartered ( for garnish)
Directions
Blend soy sauce, lime juice, garlic, cumin, paprika, oregano, 1/2 teaspoon pepper, and oil in a blender.

Put chicken in a large sealable bag and add marinade. Seal bag and marinate, chilled, 8 to 24 hours. Turn occasionally to assure even marinating.

Prepare grill for medium-high heat.

Discard marinade, then pat chicken dry. Oil grill rack.

Grill chicken over area with no coals (or over a turned-off burner), skin side down first, covered, turning over once, until cooked through, about 30 to 35 minutes (add charcoal to maintain heat).

Garnish with lime wedges.

(IF OVEN ROASTING - Preheat oven to 500°F, and roast chicken for 30 minutes in a 13x9-inch roasting pan with 1 cup water. After 30 minutes of roasting time, tent with foil and continue roasting until browned and cooked through, or about 15 minutes longer.).