Easy Meyer Lemon Vinaigrette (Vegan Friendly)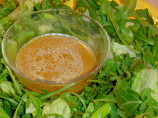 Photo by Sue Lau
Prep Time: 10 mins
Total Time: 10 mins
Yield: 0.25 cup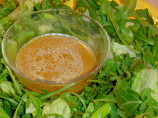 Photo by Sue Lau
About This Recipe
"When we spotted this recipe in the February 2011 issue of Sunset we knew it had to be good. I prepared two versions: one with dark aged balsamic and the second with white balsamic. For a vegan version, skip the mayonnaise or use an egg-free mayonnaise. It was suggested to try the dressing on greens such as oak leaf, mizuna and/or arugula. My husband and I enjoyed it on all three and it was especially tasty on zippy arugula! I would skip the garlic depending on your main dish and/or other items on the menu."
Ingredients
1 meyer lemon, zest of

2 tablespoons meyer lemon juice ( approximately 1 large lemon)

2 tablespoons extra virgin olive oil

1/4 teaspoon fine sea salt, to taste

1 teaspoon balsamic vinegar

1 teaspoon mayonnaise ( I'm sure plain yogurt, milk or cream, creme fraiche, sour cream, etc. would do if you're in a bind)

1/2 teaspoon sugar

1 small garlic clove, finely minced
Directions
In a non-reactive bowl whisk the ingredients together until smooth.

Vinaigrettes taste better if they are prepared at least 1 hour in advance of serving.